SEMICON Europa
SEMICON Europa is a leading trade fair for electronics manufacturing industry.
 14 to 17 November 2023
Munich Germany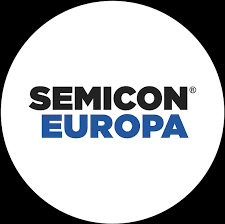 The SEMICON Europa 2023 trade fair is the world's largest exhibition for semiconductor products, services, and materials.
The SEMICON Europa in Munich focuses on the significant challenges faced by the microelectronics industry. It emphasizes the significant issues and challenges encountered in the microelectronics industry. This trade show brings together companies that provide equipment, materials, and services related to the manufacturing of semiconductors, such as wafer fabrication, packaging, and testing. SEMICON 2023 will feature PV systems, thin films, and display technologies. High-tech digital solutions showcased at SEMICON in Munich demonstrate how corporations are integrating cutting-edge 3D integration for a variety of applications.
What is SEMICON 2023 Europa Trade Fair's offer to exhibitors?
As an international platform for information and communication, SEMICON Europa 2023 offers exhibitors and visitors technical conferences, activities, and networking opportunities. With its premier status as a trade show, SEMICON gives newcomers a great opportunity to learn about the industry. Most importantly, SEMICON in 2023 will provide exhibitors and visitors with technical conferences, programs, and networking opportunities that will last a lifetime. It will be an excellent platform for business objectives to be accomplished, ideas and innovations to be shared, as well as showcasing the most cutting-edge and creative electronics manufacturing in Europe at SEMICON in 2023.
More insights about SEMICON Electronics Manufacturing Industry Trade Show
In order to facilitate faster, more dependable, and secure transformation and a new digital age, SEMICON 2023 assists the European industry in developing the next generation of the digital era. The SEMI Networking Night at SEMICON Europa Munich 2023 offers a tremendous opportunity to interact and connect with a wide range of stakeholders as well as an exciting and special opportunity to network with peers who are in attendance. So, if you are seeking a renowned and credible exhibition stand design company in Munich, who can help you create your stunning exhibition stand at the SEMICON Europa Trade Fair, get in touch with Booth Constructor today.
SEMICON Europa Trade Fair Location
Messe München
Am Messesee 2, 81829 München, Germany