DMEA 2024
DMEA 2024 is one of Europe's top trade fairs for healthcare IT and digital health.
 09 to 11 April 2024
Messe Berlin, Germany.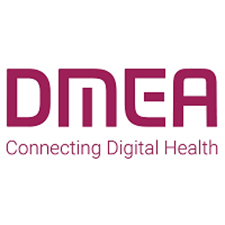 Experience Digital Health at DMEA 2024
The DMEA (formerly known as "conhIT") is an annual event held in Berlin, Germany. It is one of the leading trade fairs for digital health and healthcare IT in Europe. The event brings together professionals from various sectors, including healthcare providers, manufacturers, developers, and policymakers.
The upcoming DMEA is scheduled to take place from 9th to 11th April 2024 at Messe Berlin. Messe Berlin is one of the largest exhibition grounds in Europe, providing a spacious and modern venue for this significant event.
During the three-day event, attendees can expect a wide range of activities, including keynote speeches, panel discussions, networking opportunities, and exhibitions. The DMEA showcases the latest advancements in digital health technologies, innovative solutions, and best practices in healthcare IT.
Explore the Latest Innovations in Digital Health
The DMEA attracts a diverse audience, including healthcare professionals, IT specialists, hospital managers, policymakers, and researchers. It offers a unique opportunity to connect with key stakeholders, exchange ideas, and establish valuable partnerships.
The event aims to foster collaboration and knowledge sharing among industry experts, researchers, and decision-makers. It provides a platform for showcasing cutting-edge products, services, and solutions that can transform the healthcare industry. Participants can explore emerging trends, engage in meaningful discussions, and gain insights into the future of digital health.
Messe Berlin, the venue for DMEA, is conveniently located in the heart of the city, making it easily accessible for both national and international participants. The exhibition grounds offer state-of-the-art facilities, ensuring a seamless and productive experience for all attendees.
Connect, Discover, and Grow: Join Booth Constructor at DMEA 2024!
Booth Constructor offers a variety of services for exhibitors, from booth design and construction to end-to-end service and program management. We strive to provide the highest quality services at competitive prices. Our experienced team of designers and technicians can help you create a booth that perfectly reflects your brand. We also provide a comprehensive suite of event marketing services to ensure that your booth stands out from the crowd. Let us take care of all the details so that you can focus on showcasing your brand at DMEA 2024.
DMEA 2024 Trade Fair Location
Messe Berlin
Messedamm 22, 14055 Berlin, Germany