Milipol
Milipol Paris is the leading show for security and safety industry.
 14 to 17 November 2023
Milipol , Paris France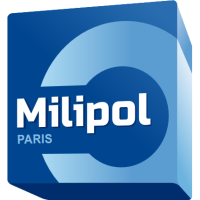 Milipol Paris – Largest trade fair for security and safety sector
The Milipol Paris event is the premier event for homeland security and safety. As an exhibitor at Milipol 2023, you will be a part of the largest gathering of homeland security and safety professionals, with over 800 exhibitors, 22,000 visitors, and 100 official delegates from 138 countries. Organizers of fair include the French National Police and Gendarmerie, French Customs, the Civil Defence Service, Interpol, and the City Police. Due to its well-established reputation and extensive international media coverage, Milipol 2023 is an ideal stage for promoting your brand and showcasing your most cutting-edge solutions.
Milipol Paris 2023 – More insights
The 23rd edition of Milipol 2023 will be held at Paris-Nord Villepinte Exhibition Centre between 14th and 17th November 2023. Every two years, the Trade Fair is organized by the French Ministry of Interior in collaboration with other government agencies. It's an excellent opportunity for your company to stand out and strengthen its position in the security market alongside the best booth builders in the area at Milipol in 2023 Paris. By accessing the entire security sector at Milipol 2023, you can discover new business opportunities and secure new clients.
Learn about Milipol Innovation Awards at the Milipol Trade Fair
In 2023, Milipol will honour the most innovative companies in five categories: cyber security, major event security management, individual equipment, drone and anti-drone systems, and crisis management. In the homeland security and safety sector, Milipol hosts the Innovation Awards.
Below is a list of the entry terms and conditions for the Milipol Innovation Awards 2023 at Milipol 2023:
The free competition is only open to Milipol Paris 2023 exhibiting companies (who are not jury members).
Competition rules must be agreed upon by exhibitors.
English is the only language allowed in entries.
The maximum number of entries a competitor may submit in two categories is two.
To exhibit at Milipol in 2023 Paris, you need a dependable and professional stand design and booth builder company. For an exceptional exhibit experience, contact Booth Constructor. Booth Constructor will provide you with a custom stand design that meets all your needs and regulations. Their experienced team of professionals will build and install your booth quickly and efficiently. Your exhibit will be sure to stand out and make a lasting impression!
Milipol Trade Fair Location
Parc des Expositions de Villepinte ZAC Paris Nord 2, 93420 Villepinte, France